June 9, 2016- Asheville Citizen Times
You can't make great hard cider without a steady source of first-rate apples. Henderson County has plenty of those, and is making a mark in cider in the same way that Asheville is known for craft brew.
Bold Rock Hard Cider is the biggest of the players with its operation in Mills River, not far from the Sierra Nevada brewery. Flat Rock Ciderworks has opened a tasting room in downtown Hendersonville. And St. Paul Mountain Vineyards, just outside the Hendersonville city limits, is expanding its Appalachian Ridge Artisan Cider operation by converting a 1920s-era barn into a cider house tasting room that will open next month. The cideries are pulling locals and tourists alike, said Hendersonville City Council member Jeff Miller. "These cideries are adding (to the tourist draw) along with the micro breweries and people coming here to pick apples," he said. "Things like this will draw people in and get them to stay longer. They are a great addition to the community."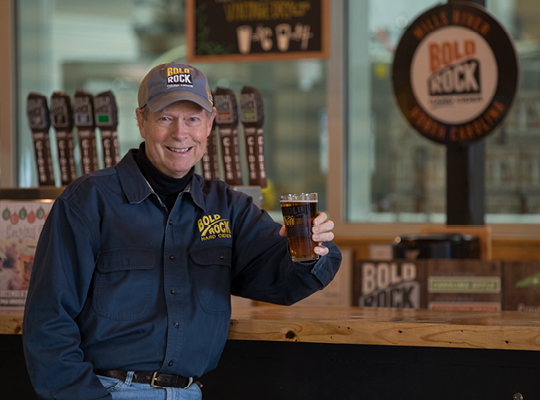 Bordering on South Carolina, that state is providing a steady stream of visitors, Henderson County cider makers say. Others are coming from Georgia and Tennessee in search of short trips from their homes, Miller said. "People are coming up with new ways of using the things that we have in our area," he said. "For an area to survive and remain healthy, you need to have variety."
Nationwide, hard cider has become a fast-growing adult beverage, especially among those who are looking for a gluten-free product or who don't enjoy beer, wine or liquor. Grocery stores are stocked with such national cider brands as Angry Orchard, Strongbow and Woodchuck. But much like craft beer, there is another market at the places where cider is made.
Appalachian Ridge Artisan Cider has very limited distribution, and is mostly sold in the tasting room of St. Paul Mountain Vineyard. On a recent afternoon, it was busy with tourists from Texas and Florida and Upstate South Carolina contributes many visitors, said owner Alan Ward, whose family has lived on the property for nine generations. He began planting grapes in 2006 and started turning out cider for sale four years ago.
Ward said he was the first commercial producer of hard cider in Henderson County, but he has followed a different course from others. He has specialized in European-style Normandy cider, He uses apples grown on his property or land owned by his family. He won't pasteurize his cider. The cider is served and sold from glass bottles. "We are really trying to keep cider in a historical perspective," he said. His cider maker Wayne Barnwell has been producing the beverage for 45 years, Ward said. His four ciders include one that tastes like a Champagne and another that is flavored with ginger.
Lately, Ward and his crew have been working to restore an old barn on the property into a cider house. The two-level barn, solid as a rock, will have stained glass windows on both sides of the structure. He hopes to have it running by late June.
Taking cider downtown
Flat Rock Ciderworks has been in business since 2013, but only recently opened a downtown Hendersonville taproom at 305 N. Main St. Jim Sparks and Jim Revis are partners in the project. Flat Rock Ciderworks turns out two ciders: Wicked Peel and Blackberry Gold, Sparks said."We use as many local ingredients as we can," he said. The cider is made at production sites in Flat Rock and Dana. "Our plan is to get all the production under one roof" by 2017, he said.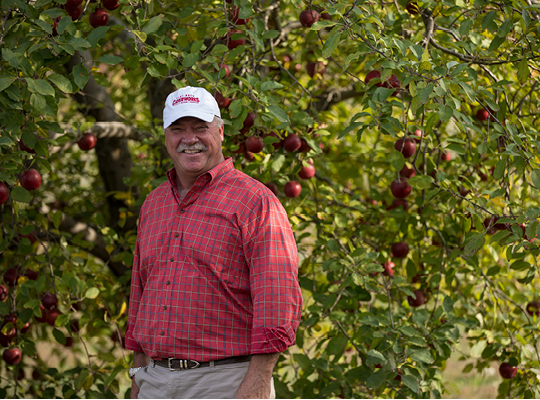 Previously, Flat Rock Ciderworks had no public facility. "But we felt like Hendersonville would expose more people to our cider," he said. He and Revis are both Henderson County natives and want to boost local agriculture through cider, he said. Along with their own cider, the Hendersonville taproom has locally made brews, plus, jams, jellies and honey. He thinks the downtown Hendersonville taproom will catch the many tourists in town for the North Carolina Apple Festival and other community celebrations. "Asheville is the east coast capital for micro brews," he said. "We hope to see Hendersonville as the cider capital of the east."
Big and bold
Bold Rock Hard Cider, the area's biggest cider producer, opened its operation in Mills River in December, having already established itself with Virginia-made cider. To expand, founder John Washburn and his cider maker Brian Shanks decided Henderson County was the place to be. Visitors are continuing to find their way to the tasting room, Washburn said. "It's progressing nicely," he said. "Especially on the weekends." Through a distribution agreement with Budweiser of Asheville, Bold Rock ciders have found great exposure at such grocery store chains as Ingles.
Bold Rock turns out eight different ciders including apple, premium dry, pear and an IPA and cider hybrid. In July, a peach cider will join the line, Washburn said. He thinks the other area cider makers are good for business. Bold Rock has done promotion at area beer festivals and is a member of the Asheville Brewers Alliance, the non-profit trade group that represents area breweries and cider makers. He believes the cider business has a lot of room for growth. "You go to a beer festival, and half the people there have never tasted cider," he said.
For the original article visit: http://www.citizen-times.com/story/news/local/2016/06/09/cider-big-business-henderson-county/84224206/